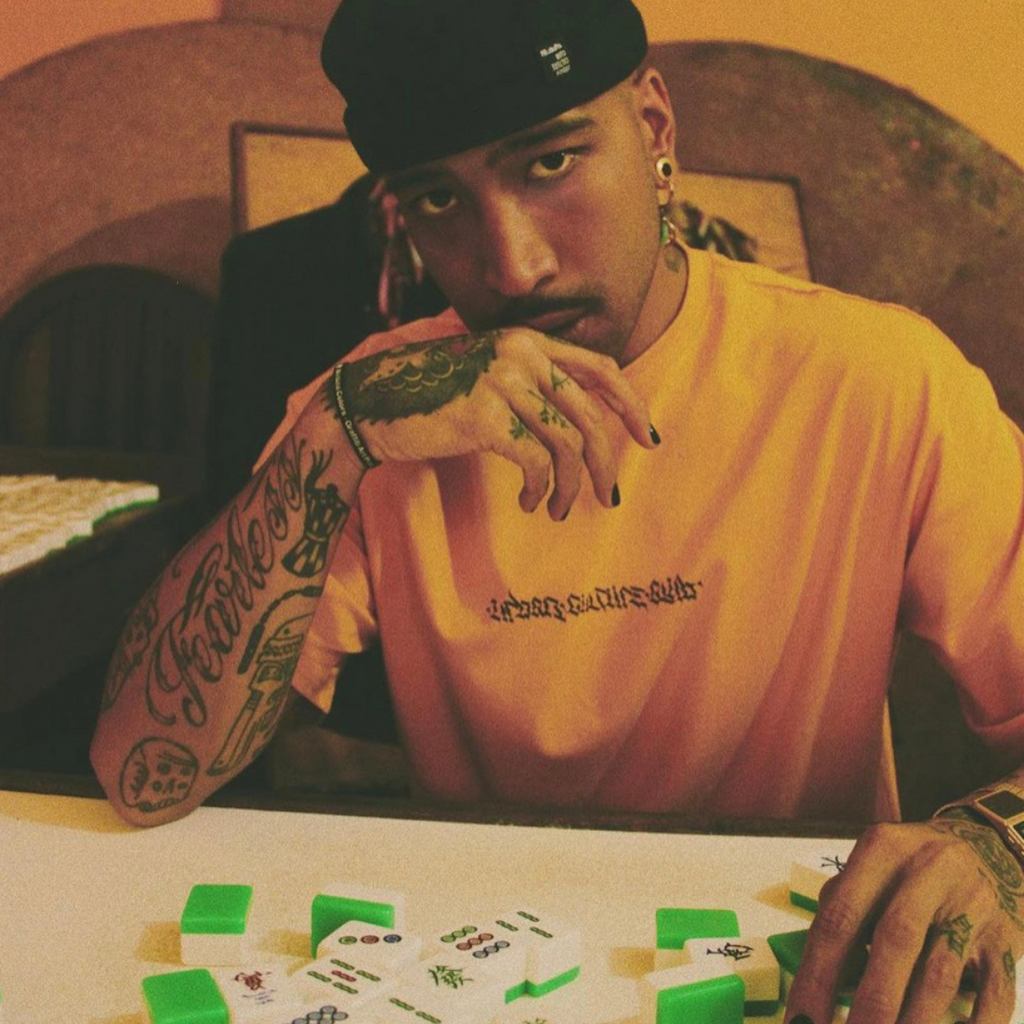 Straight out of South America we bring you painter, mixed media, and graffiti artist, Michael "burner" Wong. With parents with diverse backgrounds, his father from China and his mother from Venezuela, Michael is the embodiment of a fusion of cultures which comes across in all of his forms of art. His use of dragons and calligraphy are signature styles that set his pieces apart from other artist. He recently partnered with Johnny Walker in their recent campaign designing the canisters for their bottles creating a 750 piece collection, all signed by Wong himself. Properly chosen by the company to represent an example of someone who is here to leave their mark and this chamo is doing just that.
Another internationally based artist whose artistic career began in Harlem is the legend himself John "JonOne" Perello. Now living and creating in Paris, JonOne, who is of Dominican origin, began his artistic career during the epic era of graffiti in the 80s. His style of abstract art influenced by the energy of the city set him apart from the rest of the other emerging graffiti artist. Relocating to Paris in the late 80's, JonOne had his first exhibit in 1992. If his art seems familiar to you it is because he collaborated with Hennessy, designing limited edition bottles with his art in 2017. 
Speaking of Latino legends, we want to make sure to give flowers to the pioneers who changed the game. One of whom is known as the 'photographer who captured the birth of hip hop' is Bronx born Joe Conto, Jr. Raised by a proud Puerto Rican family who were also actively involved in the budding salsa and political New York scene with superstars like the late Tito Puente and Johnny Pacheco, Joey saw first hand the power of activism via his father and grandmother. The art, music, and dance that came from the generation of people that refused to be beat by the obstacles set against them by the corrupt politicians and deteriorating city led to his front row view and documentation of the beginning of the most popular music genre out now, hip hop. His photographs are now regarded as pieces of history and have been featured in numerous documentaries on the movement. 
This one is for the ladies! Specifically shouting out two of our favorites Jessica Marie Garcia from "On My Block"and Julissa Calderon from "Gentefied" who are back with the Season 2 of their sketch comedy YouTube series "GO OFF" presented by ConTodoNetflix! When it comes to these two sassy no-hold bars bellas you know that you are going to laugh until your stomach hurts. 
Just when we thought that Borinqueño super star Bad Bunny was done taking over the world with his music, brand partnerships, and drive through concerts he hits us with his acting talents. Making his acting debut as a gangster named "Kitty" in the final season of Netflix's hit series "Narcos: Mexico", the reggaeton star will be gracing our screen when the series returns on November 3rd.