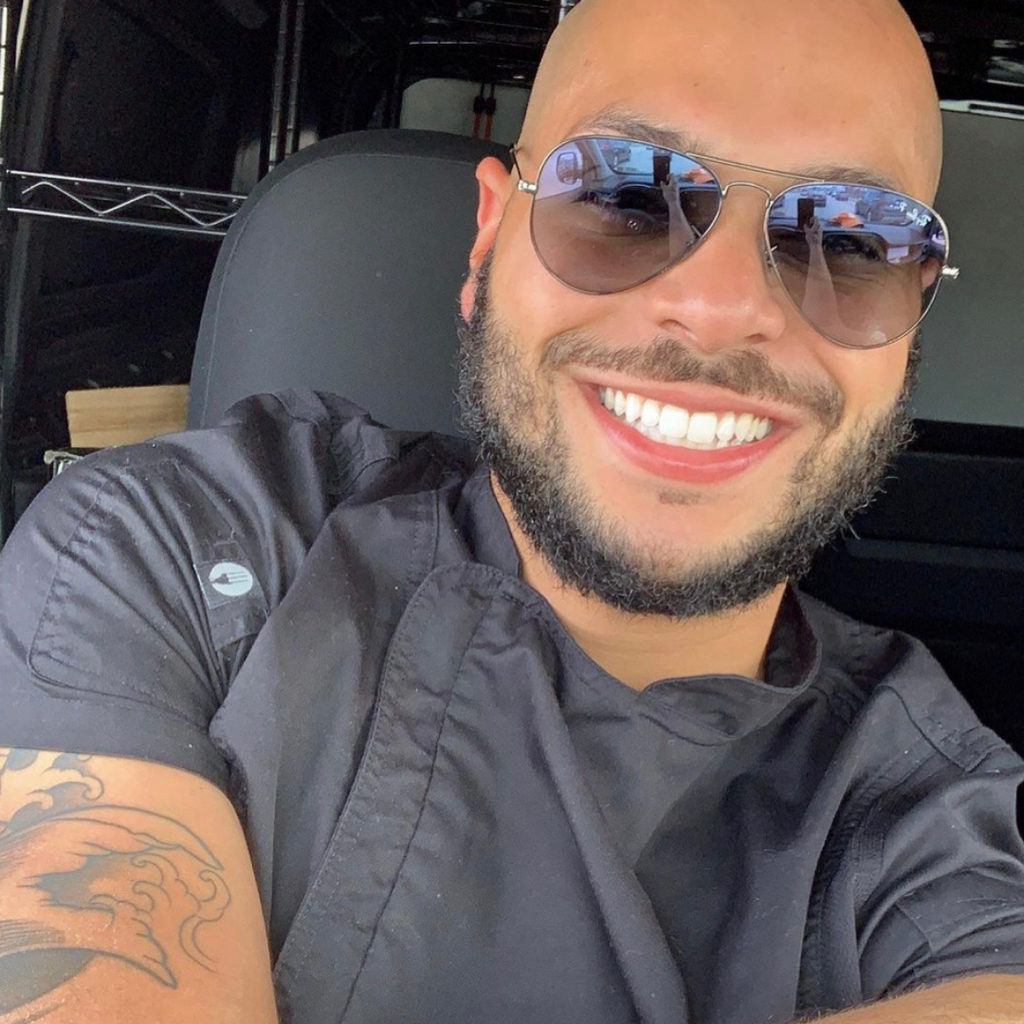 Imagine a pizza made of plantain crust topped with chicken in vodka sauce, mozzarella, longaniza, salami, queso frito, and special sauce. That would be like a little piece of Dominican-Italian heaven right? Well that foodie dream is a reality with Stephen "chef papi" Rodriguez creation of the Dominican Pizza,  a dish that became so popular that it changed the trajectory of his culinary career. Chef Papi not only has a food truck called IZKINA and his own seasoning but he also caters private dinner events. IZKINA has an array of mouth watering dishes like Jarabacoa Sushi Roll and Guava and Cheese Empanadas. If you can't wait to try some of his dishes, book a ticket to his upcoming two day birthday event "Dinner in the Sky". Buen provecho! 
As Latinos the greatest traditions that have been passed down from generation to generation are those recipes that remind us of home, our people, and our motherlands. Afro-Puerto Rican chef and actress Santana Caress Benitez understood that assignment and has been giving some of those traditional recipes her own flair. You may recognize her as "Lulu" from the hit Netflix series, "She's Gotta Have It" but this multi-talented queen is out here showing her true chef skills in the kitchen. Appropriately using the hashtag #Illcooklikeyourmother, Santana's instagram is filled with dishes that will make you want to eat your phone like the tostones topped with cod fish, pickled pepper, and a dollop of sour cream shown above. Drooling yet? Fortunately for us she now shares her recipes and some of her lifestyle hacks via a subscription on the Patreon app which is worth every penny. Hit that suscribe button and get the cooking! 
We know you all have seen them. They have taken over all of our feeds. It all started last year where Tik-Tok blew up with videos of people dunking cheesy and meaty tacos into a scrumptious broth and so started the Birria taco trend.    The thing is that these tacos were nothing new to true taco eaters. These Mexican beef or lamb filled tacos topped with cheese and served with a side of meat broth have been around since the 16th century. In N.Y. the smell tacos have been filling  the streets by the O.G.'s of the game Birria-Landia. With locations in Brooklyn and Queens the lines to these trucks are always long but worth the wait (trust me as I have been to BOTH). Go with a nice empty stomach and get ready to take your taste buds for a ride. 
Speaking of traditions is it too early to talk about coquito? The holidays are quickly approaching and we all know that it is truly not a Noche Buena until you've had that sip of coquito while hearing the current family chisme from your tia, am i right? All jokes aside, coquito is one of those traditions and recipes we previously mentioned that upholds our roots and customs from our cultura. Johnny Rivera owner of Brooklyn Coquito knows this very well. He believes that this creamy drink is not only a beverage but a lifestyle. It carries the legacy's of our ancestors and creates memories with every bottle gifted or shared. Right now, you can place a pre-order as shipping starts October 25th. They've even shared a discount code on the site for the next time you place an order since it's so good that you'll be back for more for sure. Salud!