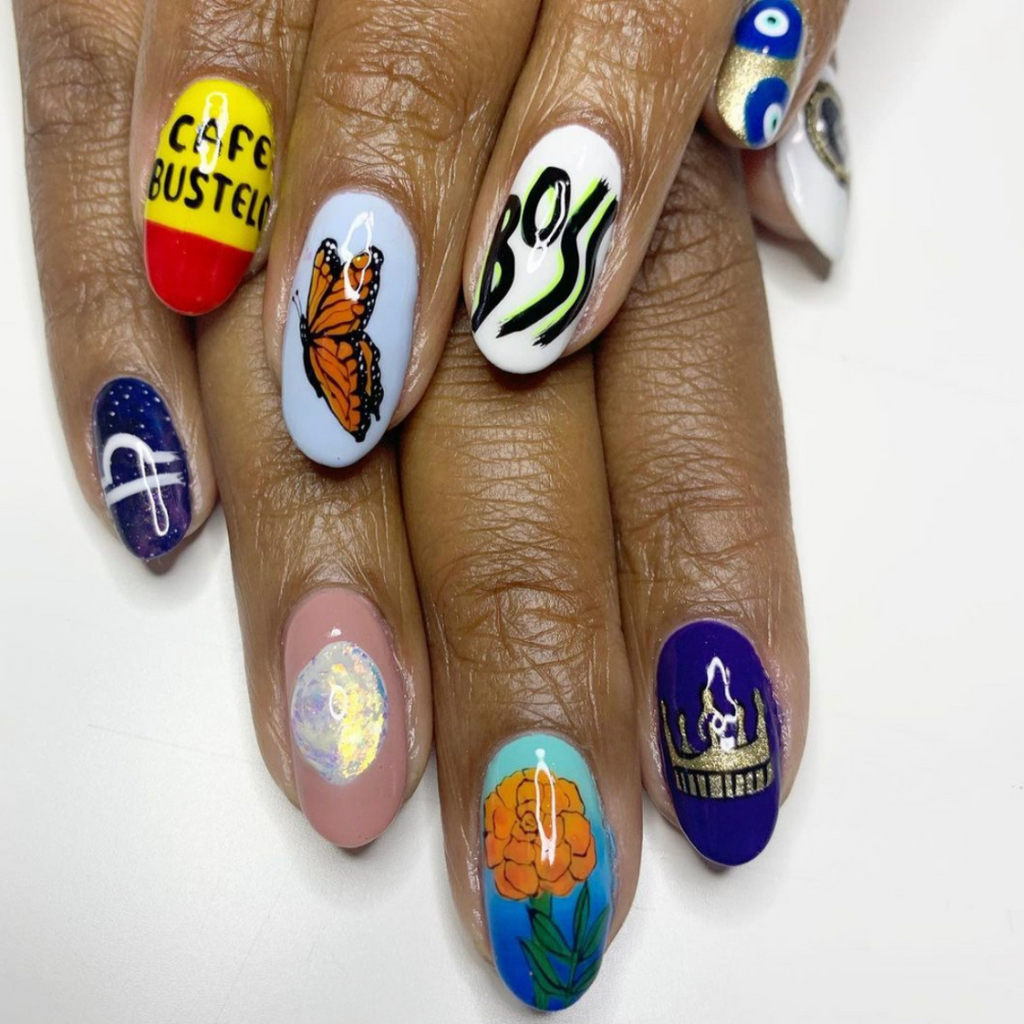 There is nothing like a fresh set to complete a fit. Like the cherry on top of a "fashion" sundae, they are the ultimate accessory to a well put together ensemble. Even though nail art is the current wave, becoming so popular that it is breaking gender barriers, this trend is nothing new. Black & Brown women have been showing off their colorful nails since the 80's & 90's (and were criticized for it). Fast forward to 2021 and we all have nail inspos saved on our digital boards. An Afro-Latina killing the nail art game is Ami Vega, manicurist and press on nail artist, who's creations are not only fashion forward but socially conscience. She also just so happen to have a pop up at our very own Taller Peralta. Her press on nail line, aminails, has a variety of designs inspired by artists, foliage, florals, and pop culture. With sets displaying Victoria Santa Cruz, Selena, and the personal favorite - Latino household staple Agua Florida, Ami truly represents for her cultura through her art.  
Speaking of fashion forward moments, Paris/Milan Fashion week 2021 just took place. Along with the styles and colorways that we will be wearing next year, there were some fresh faces included in the runway mix. One of them being new comer Scarlet Peguero, who is taking Europe by storm. This fellow Dominicana blessed us with her beautiful Afro-Latina features in top designer shows like Fendi, Dior, and MSGM. Walk that walk and show them how its done Scarlet! 
A Bronx native making waves and becoming a staple name in the industry is Dominican creative genius, Renell Medrano. When she is not shooting superstars like Will Smith, Mary J. Blidge, and Jay-Z or modeling herself with that to die for skin of hers, you can find her putting together exhibits that represent her heritage. Her last show in collaboration with WePresent, PAMPARA, was shown in London and displayed a series of photographs of her parents neighborhoods in the Dominican Republic. Via her work, she captured the vibrancy & diversity of the Dominican community. We cannot wait to continue to see Renell rise to the top. 
A recent headline that brought joy to our hearts was that of the newly crowned Miss Universe Puerto Rico 2021, Michelle Marie Colon, who made history by being the one of the very few Afro-Latinas to win the title. The 21-year old pre-med student from Loiza has not only had a successful modeling career but she has also been recognized for her philanthropy receiving the L'Oreal "Woman of Courage" award in the competition. Although we are not for the unrealistic beauty standards set by beauty pageants we are happy to see someone like Michelle represent the marvelous island of Puerto Rico. 
Fit of the week goes out to this curly haired princesa, @nayaisabella, showing off our AFRO-LATINA t-shirt and AFRO-LATINA necklace in the BX.